EAR SURGERIES:
1.Myringotomy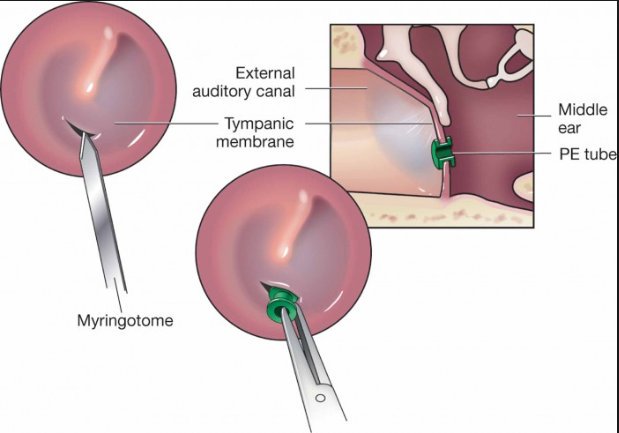 A myringotomy, sometimes called by other names, is a surgical procedure in which a tiny incision is created in the eardrum (tympanic membrane) to relieve pressure caused by excessive buildup of fluid, or to drain pus from the middle ear. A tympanostomy tube is inserted into the eardrum to keep the middle ear aerated for a prolonged time and to prevent reaccumulation of fluid. Without the insertion of a tube, the incision usually heals spontaneously in two to three weeks. Depending on the type, the tube is either naturally extruded in 6 to 12 months or removed during a minor procedure.
2. Tympanoplasty
Tympanoplasty, also called eardrum repair, refers to surgery performed to reconstruct a perforated tympanic membrane (eardrum) or the small bones of the middle ear. Eardrum perforation may result from chronic infection or, less commonly, from trauma to the eardrum.
3.Cortical & Modified Radical Mastoidectomy(MRM)
A mastoidectomy is a procedure performed to remove the mastoid air cells. This can be done as part of treatment for mastoiditis, chronic suppurative otitis media or cholesteatoma. In addition, it is sometimes performed as part of other procedures (cochlear implant) or for access to the middle ear. There are classically 5 different types of mastoidectomy:
1.Radical Mastoidectomy - Removal of posterior and superior canal wall, meatoplasty and exteriorisation of middle ear.
2.Canal Wall Down Mastoidectomy - Removal of posterior and superior canal wall, meatoplasty. Tympanic membrane left in place.
3.Canal Wall Up Mastoidectomy - Posterior and superior canal wall are kept intact. A facial recess approach is taken.
4.Cortical Mastoidectomy (Also known as schwartze procedure) - Removal of Mastoid air cells is undertaken without affecting the middle ear. This is typically done for mastoiditis
5. Modified Radical Mastoidectomy - This is confusing because it is typically described as a radical mastoidectomy while maintaining the posterior and superior canal wall which reminds the reader of the Canal Wall Up Mastoidectomy. However, the difference is historical. Modified radical mastoidectomy typically refers to Bondy's procedure which involves treating disease affecting only the epitympanum. Diseased areas as well as portions of the adjacent superior and posterior canal are simply exteriorised without affecting the uninvolved middle ear.The structures are preserved to reconstruct hearing mechanism at the time of surgery or in second-stage operation.
4.Preauricular Sinus Excision
A preauricular sinus (also known as a congenital auricular fistula, a congenital preauricular fistula, a Geswein hole, an ear pit, or a preauricular cyst) is a common congenital malformation characterized by a nodule, dent or dimple located anywhere adjacent to the external ear.
Preauricular sinuses and cysts result from developmental defects of the first and second pharyngeal arches. This and other congenital ear malformations are sometimes associated with renal anomalies.In rare circumstances these pits may be seen in genetic conditions such as branchio-oto-renal syndrome; however these conditions are always concurrent with other health concerns
5.Stapedotomy
A stapedectomy is a surgical procedure of the middle ear performed in order to improve hearing. If the stapes footplate is fixed in position, rather than being normally mobile, then a conductive hearing loss results
There are two major causes of stapes fixation. The first is a disease process of abnormal mineralization of the temporal bone called otosclerosis. The second is a congenital malformation of the stapes.
In both of these situations, it is possible to improve hearing by removing the stapes bone and replacing it with a micro prosthesis - a stapedectomy, or creating a small hole in the fixed stapes footplace and inserting a tiny, piston-like prosthesis - a stapedotomy. The results of this surgery are generally most reliable in patients whose stapes has lost mobility because of otosclerosis. Nine out of ten patients who undergo the procedure will come out with significantly improved hearing while less than 1% will experience worsened hearing acuity or deafness. Successful surgery usually provides an increase in hearing acuity of about 20 dB. That is as much difference as having your hands over both ears, or not. However, most of the published results of success fall within the speech frequency of 500 Hz, 1000 Hz and 2000 Hz; poorer results are typically obtained in the high frequencies, but these are normally less hampered by otosclerosis in the first place.
THROAT &NECK SURGERIES:
1. Tonsillecotomy
A Tonsillectomy is a surgical procedure to remove the tonsils. Tonsils are two small glands located in the back of your throat. Tonsils house white blood cells to help you fight infection, but sometimes the tonsils themselves become infected.
Tonsillitis is an infection of the tonsils that can make your tonsils swell and give you a sore throat. Frequent episodes of tonsillitis might be a reason you need to have a tonsillectomy. Other symptoms of tonsillitis include fever, trouble swallowing, and swollen glands around your neck.
2. Adenoidectomy
Adenoidectomy is the surgical removal of the adenoid for reasons which include impaired breathing through the nose, chronic infections, or recurrent earaches. The surgery is less commonly performed in adults in whom the adenoid is much smaller and less active than it is in children. It is most often done on an outpatient basis under general anesthesia. Post-operative pain is generally minimal and reduced by icy or cold foods.
3.Vocal cord polyps, nodules, granulomas, papillomas rienkis edema etc. -> Micro laryngeal Surgeries
NOSE SURGERIES: